Assembler
Our client, a performance suspension manufacturer in Corona, CA is looking for Assemblers to join their talented team. You need to have an aptitude for mechanics and an eye for detail and your main goal is to ensure that all parts and products under their care are in proper working order and meet the quality standards of the company and industry.
Your Day:
- Assist in all stages of damper assembly
- Produce quality dampers per design specifications
- Perform basic, standardized and repetitive electronic assembly operations
- Prepare and manually assemble inserted components per visual aids
- Visually inspect parts for proper insertion and placement
- Ensure assemblies and components are properly handled and marked
- Accurately maintain progress reports; monitor and restock parts bins as required
About You:
- Background check
- Ability to define problems, collect data, establish facts, and draw valid conclusions
- Ability to operate a personal computer including using a Windows based operating system and related software
- Ability to write simple correspondence
- Read and understand visual aid
- Ability to add, subtract, multiply, and divide in all units of measure, using whole numbers, common fractions, and decimals
Pay Rate and Shift:
- Monday to Friday
- 6:00 am to 2:30 pm or 2:00 pm to 10:30 pm
- $16.00 to $19.00
Apply
Your application has been successfully submitted.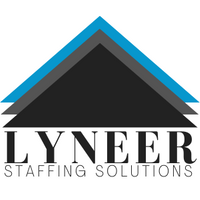 Staffing companies are a dime a dozen, then there's Lyneer