Forklift Operator
Our client, specialists in warehousing and supply chain logistics, is looking for a Forklift Operator in Phoenix, AZ to join their team. In this role, you will be responsible for supporting all accounts within this facility and performing all forklift functions safely per policy manual, perform daily safety check list, and support inventories by performing counts.
Your Day:
- Safe and proficient operation of various forklifts and attachments
- Unload trailers, containers, and railcars following all safety procedures
- Complete all receivers thoroughly and accurately and turn in with all appropriate paperwork and attachments (including pictures if required)
- Stage and stack all products square and straight according to the requirements provided by each specific account
- Accurately pull appropriate product from assigned locations
- Verify all aspects of outbound orders prior to loading
- Load all outbound orders following load diagrams that are specific to the product being shipped and the trailer limitations the product goes into
About You:
- Must be alert and pay attention to surroundings at all times
- Regular, predictable, full attendance is an essential function of the job
- Proven experience as a forklift operator
- Attention to detail and familiarity with industrial equipment
- Excellent physical condition and coordination
Pay Rate & Shift:
- $16.00 - $18.00
- 8-hour shifts
- 12-hour shifts (4) days a week, 6:00AM - 6:00PM or 6:00PM - 6:00AM
Apply
Your application has been successfully submitted.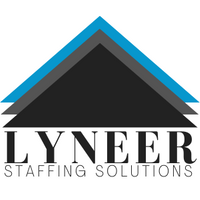 Staffing companies are a dime a dozen, then there's Lyneer