Forklift Operator
Our client is looking for a Forklift Operator in Pennsauken, NJ to join their team. In this role, you will be moving freight, stock, and other materials from their storage facility to their production areas, loading docks, delivery vehicles, and containers.
Your Day:
- Coordinates with Quality Control to team to unload incoming shipments
- Once unloaded operator verifies incoming shipments against receiving ticket, bills of lading or packing slips
- Verifies information and counts are correct, and product is within our quality parameters
- Checks shipment for damage, contamination, or shortages
- Reports all discrepancies to immediate supervisor or appropriate parties
- Ensure all products have been inspected prior to storing the product
- Efficiently moves product from cooler to dock staging area for final inspection prior to loading trailers
- Ensures all product leaving facility are within allowed temperature parameters
- Applies truck seals to ensure product integrity throughout transportation phase
- Perform daily entries in Famous of all inbound and outbound shipments
- May maintain department database, prepare routine reports, and file shipping/receiving records
- Fill out forklift inspection form daily
- Maintain extensive knowledge of work procedures and policies, customer knowledge, DOT regulations
About You:
- Ability to work in non-climate-controlled conditions require
- Regular, predictable, full attendance is an essential function of the job
- Proven experience as a forklift operator
- Attention to detail and familiarity with industrial equipment
- Excellent physical condition and coordination
Hours and Compensation:
- $16.00 - $19.00
- Monday - Friday
- 1st, 2nd, and 3rd Shift Available
Apply
Your application has been successfully submitted.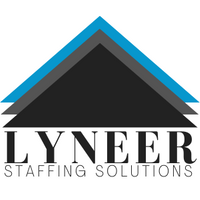 Staffing companies are a dime a dozen, then there's Lyneer