Material Handler
Our client, industry leader in CI, Stucco, and Architectural Coatings & Finish systems is looking for a Logistics Coordinator in Clifton. NJ to join their team. In this position, you will assist the Material Manager/Buyer Planner in scheduling, planning and purchasing.
Responsibilities:
- Coordinate the delivery of raw materials and packaging requirements
- Review production schedules and estimate requirements to compete production assignments
- Monitor open purchase orders and follow up an any past due or delayed receipts with the supplier
- Communicate any disruption in the raw materials flow to the production team
- Expedite, reschedule or cancel material deliveries
- Report daily production numbers to the Plant Manager
- Perform cycle counts as well as other inventory
- Manage inter plant stock transfer
- Assist shipping department on scheduling trucks as needed
- Purchase & Maintain plant operating supplies
- Manage returned products
Qualifications:
- Experience in warehouse/stockroom environment
- Excellent communications and interpersonal skills
- Proactive self-starter who excels at working in a team environment.
- Ability to work in a team where priorities can change from hour to hour.
- Willingness to own issues and see them through to completion.
Shift/Pay-Rate:
- 7:55 am to 4:30pm
- $15.50 /hour
Apply
Your application has been successfully submitted.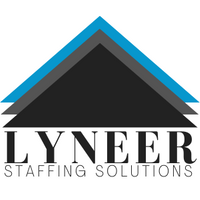 Staffing companies are a dime a dozen, then there's Lyneer