Forklift Operator
Lyneer Staffing Solutions is looking for a clamp forklift operator to move packages and material for one of our client's facilities. You will be operating a clamp forklift with the utmost care to ensure efficiency and safety. Your job could involve driving around warehouses, storage spaces, and other facilities.
Responsibilities
- Unload materials and merchandise from incoming vehicles and stack them in assigned places
- Locate and move stock of products to pallets or crates for storage or shipment
- Identify damages and report shortages or quality deficiencies
- Transport raw materials to production workstations
- Inspect machinery to determine the need for repairs and guarantee safety by performing regular maintenance
- Keep updated records of inventory and activity logs
- Comply with company policies and legal guidelines
- Help maintain a safe and orderly environment of the facilities
Skills
- Proven experience as forklift operator
- 2 years' experience with a clamp truck
- Attention to detail and familiarity with industrial equipment
- Excellent physical condition and coordination
- Ability to lift 50 lbs.
Hours and Compensation
- Mon - Thurs 5a-3:45p $15.00 
- Mon - Thurs 4p-2:45am $16.50
- Fri - Sun 5a-5p $17.00
- Fri - Sun 5p-5a $17.00"
Apply
Your application has been successfully submitted.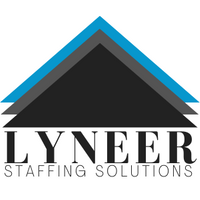 Staffing companies are a dime a dozen, then there's Lyneer