Forklift Operator
Our client, a leading logistics company, is looking for a Forklift Operator in Kansas City, MO to join their team. In this role, you will be responsible for moving freight, stock, and other materials from their storage facility to their production areas, loading docks, delivery vehicles, and containers.
Your Day:
- Unload inbound shipments safely and move products to storage locations
- Efficiently stack and store the merchandise in the appropriate areas, according to, Murphy, management, & customer-specific guidelines
- Verify that inbound and outbound shipments are accurate and free of damage
- Report quality & quantity variances immediately to management
- Pull and prepare the product for shipment, ensuring that the exact number and type of product is loaded and shipped
- Perform picking duties in an efficient manner that meets customer service standards
- Efficiently move product from staging and/or storage areas into rail cars or trailers
- Load, unload, move, stack, and stage product and materials using a forklift, clamp truck, or other power equipment
About You:
- Ability to work in non-climate-controlled conditions required
- Regular, predictable, full attendance is an essential function of the job
- Proven experience as a forklift operator
- Attention to detail and familiarity with industrial equipment
- Excellent physical condition and coordination
Pay Rate & Shift:
- $18.00
- Monday - Friday
- 6:00AM - 2:30PM
Apply
Your application has been successfully submitted.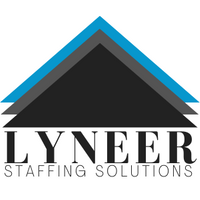 Staffing companies are a dime a dozen, then there's Lyneer