Recruiter
Lyneer Staffing Solutions is looking for a high-energy, outgoing, Recruiter. In this role, you will have the opportunity to work with a team of talented recruiters to identify talent, review resumes, schedule interviews, and assess candidates. This includes sourcing candidates from job boards, internal referrals, networking events, social media sites, and more.
Your Day
- Actively source talent by identifying qualified candidates through various channels such as job boards, networking events/social media sites, and referrals from other employees.
- Conduct phone screenings and in-person interviews to assess candidates' skills and qualifications.
- Briefly describe job role requirements to identify appropriate candidates
- Review resumes and schedule interviews with potential hires
- Act as a point of contact and build influential candidate relationships during the selection process
- Monitor and apply HR recruiting best practices.
About You
- 1 to 2 years of experience in a consumer-facing role.
- Bilingual - English/Spanish - nice to have, not mandatory
- Be able to spin multiple plates and be highly organized, even if it's organized chaos.
- Light Industrial experience is a big plus
- Have the ability to effectively and logically navigate computer applications. You know what Alt + F4 does; if not, try it now!
- You lived as a sheepdog in a previous life and can coral and maintain connections with multiple candidates.
- You can dig down naturally, asking next-level questions.
Hours and Compensation
- Monday - Friday
- $50,000 to $55,000 annually
Apply
Your application has been successfully submitted.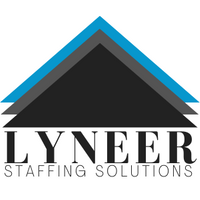 Staffing companies are a dime a dozen, then there's Lyneer