FSQA Technician
Our client, a leadership position in specialty frozen baked goods, is looking for an FSQA Technician - Quality Assurance Inspector in Newark, CA. In this role, you will be responsible for core values and acts with integrity, takes ownership of your work, proactively identifies the needs of our customers, generates creative and new ideas, and promotes an environment where our people and foods are safe. You will earn $20.50 /hr working Monday - Friday.
Your Day:
- Ensure that our foods meet the company's standards and specifications.
- Understanding and identification of non-conforming raw materials, semi-finished and finished foods.
- Report food safety and quality non-conformances and deviations to FSQA Manager. Placing food on hold physically and in SAP for further evaluation.
- Conduct sampling, testing, and documentation of the company's Integrated Management System (AIMS), including procedures and records: swabs, tailing checks; flour slick test
- Understanding and verification of 21 CFR 117 Subpart B Current Good Manufacturing Practices (cGMPs), Prerequisite and Preventive Control Programs, and Critical Control Points (HACCP)
- Participate in Pre-operational inspections with a cross-functional team. Physical bakery inspections, such as GMP and Hygiene, Food Safety, Foreign material, Glass and Hard Plastics, etc.
- Verify that finished food case labels are accurate.
- Follow the Critical to Quality Control Points as identified in AIMS 5.0 Quality Flow Diagram and verification that manufacturing is adhering to monitoring checks
- Basic training and understanding of SPC and QCP checks recorded in MII, including the quality dashboard for those Bakery locations using MII.·
- Trained in and verification of AIMS Net Weight Policy and MAV limits.·
- Verification of lot traceability, how packaging and raw ingredients are coded, coding of finished foods, and recipe verification against the manufacturing specification.
About You:
- Ability to operate scales, metal detection and imaging devices, ovens, and other instrumentation and measuring devices
- Reading, Writing, and Math Skills
- Proficient computer skills including experience in MS Outlook & Excel
- Must be able to work in a fast-paced environment and must also effectively manage and execute changes
Pay Rate & Shift:
- $20.50
- Monday to Friday
- 5:00 AM to 1:30 PM
- 1:00 PM to 9:30 PM
Apply
Your application has been successfully submitted.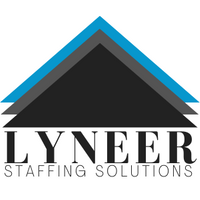 Staffing companies are a dime a dozen, then there's Lyneer