TV Commercial Operations Specialist
Do you want to work for a leader in entertainment, serving an audience of fans around the world? If so, our client is looking to hire a TV Commercial Operations Specialist in Knoxville, TN. In this role you will be responsible for, but not limited to providing administrative and process support in the daily execution of TV Commercial Operations functions.
Your Day to Day:
Create a daily broadcast log, including manipulation of paid units for maximum revenue potential
Confirm that promotional items and public service announcement are correctly scheduled on log
Assist in research and resolution of order entry or log scheduling issues including overselling and separation situations, conflicts, competitive issues, exclusivity, sponsorships, preempts
Maintain updated and accurate files consisting of all reports, correspondence, and confirmations related to daily log production, copy sequences, and program content, both linear and non-linear
Interact daily with Ad Sales, Creative Services, and outside agency personnel to resolve contract issues, provide the information needed in the workflow process; expedite materials (instructions, media, and commercial assets, billboards, promotional fill material)
Maintain assigned accounts and process all commercial instructions, accurately inputting information into the traffic system
Implement all copy changes to exported logs as requested and ensure that changes are approved and processed through the appropriate channels
Enter all programming information into traffic system including format structure, program titles, episode information and timing sheets. Interact with Programming department to ensure all program changes are processed and confirmed.
Expedite all materials required for billboard production and confirm that required specifications are adhered to per Scripps Networks policies.
About You:
Bachelor's degree or equivalent work experience
Knowledge of administrative and clerical procedures with strong attention to detail and ability to multitask in a deadline driven environment
Strong organization skills with the ability to work within time constraints and exhibit flexibility in work hours based on business needs and seasonal demands
Must exhibit excellent problem-solving abilities
Strong computer skills including Microsoft Office applications with exceptional written and verbal communication skills
Ability to compile, code, categorize, audit, or verify information or data
Ability to enter, store or maintain information in written or electronic form
Pay Rate & Shift:
$19.00 /hr
Monday to Friday
9:00 AM to 5:00 PM
Apply
Your application has been successfully submitted.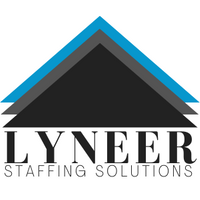 Staffing companies are a dime a dozen, then there's Lyneer