Material Handler
Do you have Material Handler experience, looking for work, and live in the Irvine, CA area? If so, Let's talk! Our client is looking to hire a for that same position. In this role, you would be responsible but not limited to laying up, feeding or piling down materials at equipment. Jog product off counter stacker and stack neatly on skid to assure good running in bindery or mailing department for the daily execution and handling of customer orders and shipments.
Your Day to Day:
Separate signatures by hand based on customer specifications.
Counts weighs, and records number of units of materials moved or handled on daily production sheet.
Complete skid flags and packaging slips to ensure accurate tracking. Install strapping, bracing, or padding to prevent shifting or damage in transit, using hand tools.
Attaches identifying tags or labels to materials or marks information on cases, bales, or other containers.
Stacks or assembles materials into bundles and bands bundles together, using banding machine and clincher. May use automated equipment and/or occasionally operate industrial truck or electric hoist to assist in loading or moving materials and products.
About You:
Good knowledge of general warehouse layout, item identification codes, basic warehouse procedures, and the storage areas
Able to stock, move, arrange, and rotate items in accordance with operating instructions.
Able to complete appropriate forms relating to stock description, quantity, unit of issue, and the labeling requirements for incoming and outgoing materials.
Good skill in the use of shrinkwrap and strapping equipment, powered lift equipment, pallet jacks, manual dollies, carts or hand trucks, and hand tools used in material handling.
May require skill in operating/using a forklift truck.
Pay Rate & Shift:
$16.00 to $18.00 /hr
Monday to Friday
Shifts begin between 7:00 am to 8:00 am
Apply
Your application has been successfully submitted.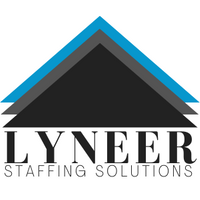 Staffing companies are a dime a dozen, then there's Lyneer