Assembly Technician
Our client, a company that designs and manufactures plasma etch and deposition systems is looking to hire an Assembly Technician for their location in St, Petersburg, FL. In this role, you would be responsible for but not limited to intricating expensive parts using hand tools, bolts, screws, speed clips, rivets, or other fasteners. You will earn $15.00 to 17.00 /hr working Monday to Friday, 7:00 AM to 5:00 PM or 3:00 PM to 1:00 AM.
Your Day to Day:
Assembles electrical components using the bill of material, routers, and hand tools. Wire operations involve wire cutting, stripping, crimping of contacts onto various wire gauges, wiring plugs and receptacles of wire harness, and hand soldering to create a good connection
Performs complex mechanical alignments to the established quality standards and other procedures that are used during the assembly of the products
Performs basic vacuum leak tests and operation of pneumatically and electric valves
Documents assembly and test work instructions that complement the drawings and bills of material to insure the efficient and consistent completion of the sub-assemblies
Complete a quality inspection and fill out a quality checklist for each sub-assembly
Identifies and seeks to resolve quality issues, and concerns and suggest improvements
Utilizes pneumatic and fluidic diagrams to facilitate utility hookups
Skills & Qualifications:
Ability to interpret blueprints, drawings, schematics, technical procedures, and other related material.
Minimum of one year of directly related experience as an assembly technician
Ability to read, interpret, and follow safety rules, operating and maintenance instructions, and procedure manuals. 
Ability to follow written and verbal directions to perform to the quality standards.
Ability to apply basic mathematical skills for problem-solving.
Proficient in the use of crimpers, torque wrenches, soldering irons, calipers, dial indicators, and other assembly hand tools.
Ability to stand for an extended period of time (70%).
May be required to lift or move up to 50 pounds
While performing the regular duties of the position, the incumbent is regularly exposed to moving mechanical parts, risk of electrical shock, and possible exposure to toxic or caustic chemicals. The incumbent must be able to wear safety equipment and follow safety instructions. 
Pay Rate & Shifts:
$15.00 to $17.00 /hr
Monday to Friday
7:00 AM to 5:00 PM
3:00 PM to 1:00 AM
Apply
Your application has been successfully submitted.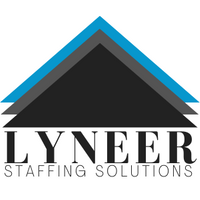 Staffing companies are a dime a dozen, then there's Lyneer