Forklift Operator
Our client, a software technology company in West Deptford, NJ is looking for a hard-working Forklift Operator - Bilingual Team Lead to join their growing team. In this position, you will oversee and coordinate forklift truck services for the operational and service departments of the facility.
**Bilingual – Spanish (REQUIRED)**
Your Day to Day:
Reviews daily production schedules for forklift operator needs.
Prepares and distributes operator assignments based on daily production schedules.
Coordinates with supervisors in receiving, shipping, and warehouse departments to provide additional, timely forklift operation services.
Routinely observes forklift operation throughout the facility for safety and adherence to performance standards.
Ensures that drivers complete all required preoperational checks and post-shift reports.
Schedules and/or arrangements for maintenance and repair of forklift trucks.
Maintains the inventory of forklift parts and supplies.
Requests and facilitates the purchase of additional and replacement forklift trucks to meet the operational needs of the facility.
 Leads periodic safety meetings; ensures compliance with applicable safety standards, regulations, and policies.
Skills & Expertise
Four years of experience in CHERRY PICKER and DOUBLE WALKIE with a clean operation record required.
MUST speak English and SPANISH
High school diploma or equivalent required; trade school training preferred.
Six years minimum of experience as a forklift operator
one year minimum of experience as a Lead or supervisor
 Must have previous RF experience.
Pay Rate & Shift:
$20.00 /hr
Monday to Friday
2:00 PM to 10:00 PM
Apply
Your application has been successfully submitted.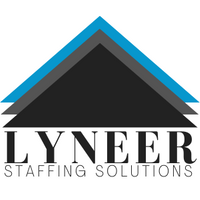 Staffing companies are a dime a dozen, then there's Lyneer